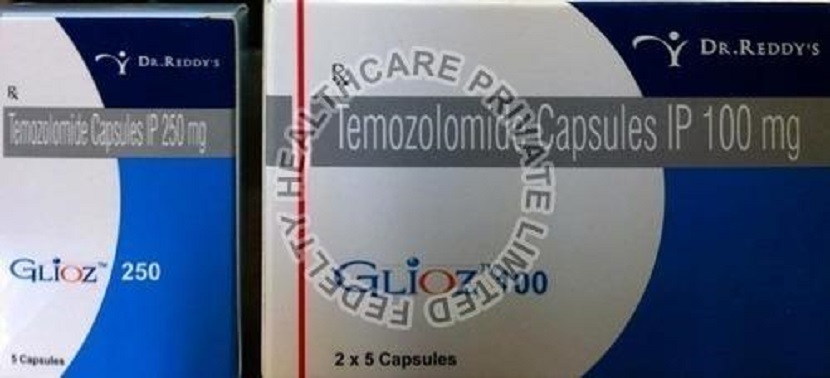 The composition of the Glioz capsules is Temozolomide. This anticancer medication is used to treat brain cancers such as anaplastic astrocytoma and glioblastoma multiforme. It is also used for treating melanoma. It inhibits or prevents cancer cell proliferation in the body. It causes cancer cells to die by harming them.
Dosage:
Temozolomide is taken by mouth as a capsule. It is typically taken once a day, before night. Take pills with a glass of water on an empty stomach. Every day, at the same time, take temozolomide. Glioz Capsules are administered daily for 42–49 days for some forms of brain tumors. It can then be taken once a day for 5 days in a row after a 28-day break, followed by a 23-day break before resuming the dose cycle. Temozolomide is given once a day for 5 days in a row to treat different forms of brain tumors, followed by a 23-day rest before starting the following dose cycle. Always refer to the prescription before taking your doses. If you find anything abnormal then you should contact your doctor immediately.
Side effects of Glioz:
Higher chance of infection: The decrease in white blood cells increases the risk of infection. A change in temperature, aching muscles, headaches, feeling chilly and shivery, and feeling generally poorly are among the symptoms. Infections can be life-threatening and should be reported to a doctor as soon as possible.
Bruising, bleeding gums or nosebleeds are all signs of a problem. This is linked to a decrease in platelet count in your blood. When we cut ourselves, these blood cells enable the blood to clot. After cleaning your teeth, you may get nosebleeds or bleeding gums. Alternatively, you may have several little red patches or bruises on your arms or legs (known as petechiae).
Loss of appetite is frequently observed: When receiving cancer treatment, you may lose your appetite for a variety of reasons. Sickness, changes in taste, or exhaustion might make you avoid food and beverages.
Headache: If your headaches persist, see your doctor or nurse. They can aid you with painkillers.
Diarrhea or constipation: If you develop diarrhea or constipation, tell your doctor or nurse. They can provide you with medication to assist you.
Tiredness: Tiredness and weakness (fatigue) might occur during and after treatment; simple activities performed every day will help keep your energy levels up. Don't overwork yourself; take breaks when you are fatigued and seek assistance from others.
Glioz capsule supplier:
Are you looking for a high-quality Glioz Capsules Supplier in Mumbai? Then Fidelity Healthcare is most likely the finest option for you. Fidelity Healthcare, being one of the leading Glioz Capsule suppliers in Mumbai, provides the highest quality Glioz Capsules. These are available in capsule form and are made by one of the most well-known brands, Dr. Reddy's. Theyare available in strip packaging on the market. These capsules are available outside of India for 120 rupees for each strip, with a minimum order quantity of 100 strips. Because all of these capsules are so delicate, they require extra care when being given.
This entry was posted on May, 30, 2022 at 14 : 06 pm and is filed under Glioz Capsules. You can follow any responses to this entry through the RSS 2.0 feed. You can leave a response from your own site.