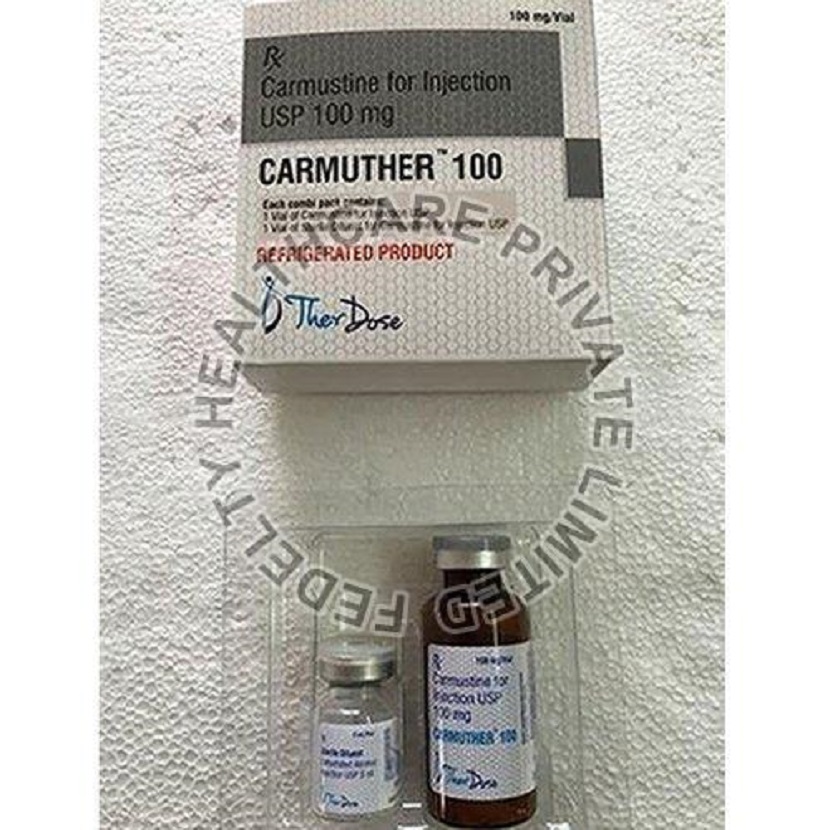 Carmuther 100 Injection from a Carmuther Injection Supplier in Mumbai, is often used to treat some forms of bone marrow cancer as well as tumours of the brain and lymphatic system. It may potentially be used to treat other malignancies. It can be used alone or in conjunction with a few other drugs as part of chemotherapy.
Typically, a physician or a nurse administers Carmuther 100 Injections. Self-administration of this drug at home is not advised. The type of treatment you are receiving and how serious your disease is will determine the dosage and length of the course. For as long as the doctor has advised, you should receive the injection regularly.
The most typical adverse effects of this medication include headache, weakness, fever, pain, rash, nausea, vomiting, constipation, depression, tiredness, and speech problems. In addition to this, certain individuals may experience thrombophlebitis, one-sided paralysis, convulsions, disorientation, and brain swelling.
Given the medication's potency, some users may have major adverse effects. Your capacity to fight infections may be decreased by this medication, which might also cause issues with your blood, lungs, liver, or kidneys. To check for them, your doctor will encourage you to have routine blood tests.
Before taking it, let your doctor know if you have any liver, lung, or kidney issues or if you're already taking any antibiotics. Let your doctor know about all of the drugs you are taking as many other medications can interact with this one or be impacted by it.
Neither nursing nor becoming pregnant are permitted while using this medication. It may hurt your child. You and your partner should wait a few months after your treatment with it has ended before becoming pregnant or fathering a baby.
USES OF CARMUTHER INJECTION -
An abnormal growth or cluster of cells called a brain tumour may be cancerous (malignant) or not (benign). The injection known as Carmuther 100 destroys or inhibits the development of cancer cells and also stops them from proliferating.
The benefits and drawbacks of this potent and highly deadly drug should be discussed with your doctor. While receiving this medication, you should abstain from alcohol use and consume lots of water to keep hydrated.
Notify your doctor of any medical conditions:
If you have kidney, liver, or lung issues Allergies, infections like shingles, as well as chickenpox
Before using this drug, women who are pregnant, attempting to get pregnant, or even nursing should talk to their doctor about the potential side effects. Injections are used to give the medication. To lessen adverse effects before administration, one may be offered other medications.
This information is dependent on the salt concentration of the drug. The medication's effects and uses might differ from person to person. It is recommended to speak with an oncologist before taking this medication.
Side Effects:
The majority of side effects are temporary and go away as your body gets used to the medication. If they continue or cause you concern, speak with your doctor.
Nausea
Vomiting
Headache
Fever
Infection
Hair loss
Convulsion
Depression
Speech disorder
Rash
Constipation
Weakness
Confusion
Brain swelling
Thrombophlebitis
Working Procedure:
An anti-cancer drug is Carmuther 100 Injection. It operates by causing harm to the cancer cell's DNA and RNA. Their development and reproduction are halted by this.
Safety Advice:
It is unknown if drinking alcohol while taking Carmuther 100 Injections is appropriate. Please speak with your physician.
Using Carmuther 100 Injection while pregnant is dangerous because there is clear evidence that it poses a risk to the unborn child. However, if the benefits outweigh the possible risks, a doctor might very rarely recommend it in some life-threatening circumstances. Please speak with your physician.
The use of Carmuther 100 Injections during nursing is dangerous. Data imply that the medication may poison the unborn child.
The negative effects of Carmuther 100 Injection might impair your ability to operate a motor vehicle.
The usage of Carmuther 100 Injection in individuals with renal dysfunction is not well understood. Please speak with your physician. However, it is not advised for people with severe renal disease to take Carmuther 100 Injections.
The usage of Carmuther 100 Injection in individuals with liver disease is not well understood. Please speak with your physician.
If You Skip A Dose:
Take the missed Carmuther 100 Injection dosage as soon as you remember. If your next dosage is approaching, skip the missing one and resume your normal regimen. Don't increase the dosage.
Precautions To Be Followed:
The following are some key warnings that should be remembered when taking this medication:
It is dangerous to administer Carmuther 100 Injections throughout pregnancy since there is known harm to the unborn child.
This prescription may be hazardous to the nursing infant, hence breastfeeding is not recommended while using it.
Carmuther 100 Injection may affect your vision. As a result, it is not recommended to drive if these symptoms appear.
Patients with advanced renal disease shouldn't use Carmuther 100 Injections.
If you are hypersensitive to Carmuther, you shouldn't use this drug.
Inform your doctor if you have liver, kidney, or bone marrow suppression, as well as a history of lung or breathing issues, before starting Carmuther.
Usually, Carmuther Injection is used once every six weeks. Over two days, you can receive a single injection or several. Follow your doctor's dosage instructions very carefully.
Up to 6 hours after your injection, Carmuther may produce nausea and vomiting. Blood cells that assist your body in fighting infections can be reduced by Carmuther. After receiving a dosage of Carmuther, you will require weekly blood tests for at least 6 weeks. You might also need to have the health of your liver, kidneys, and lungs checked.
The low melting point for Carmuther is 30.5°-32.0°C or 86.9°-89.6°F. The medicine will liquefy and appears as an oil film on the vials if exposed to this temperature or above. Decomposition is indicated by this, and vials ought to be thrown away.
Immediately check the vial in each carton after receiving this product if there is any doubt about whether it has received proper refrigeration. To check the vial, hold it up to a strong light. A very modest quantity of dry flakes or a dry congealed mass will be Carmuther's physical sign.